Photos 2017
Send us your pictures and brags of your CARO triumphs!
CRXML!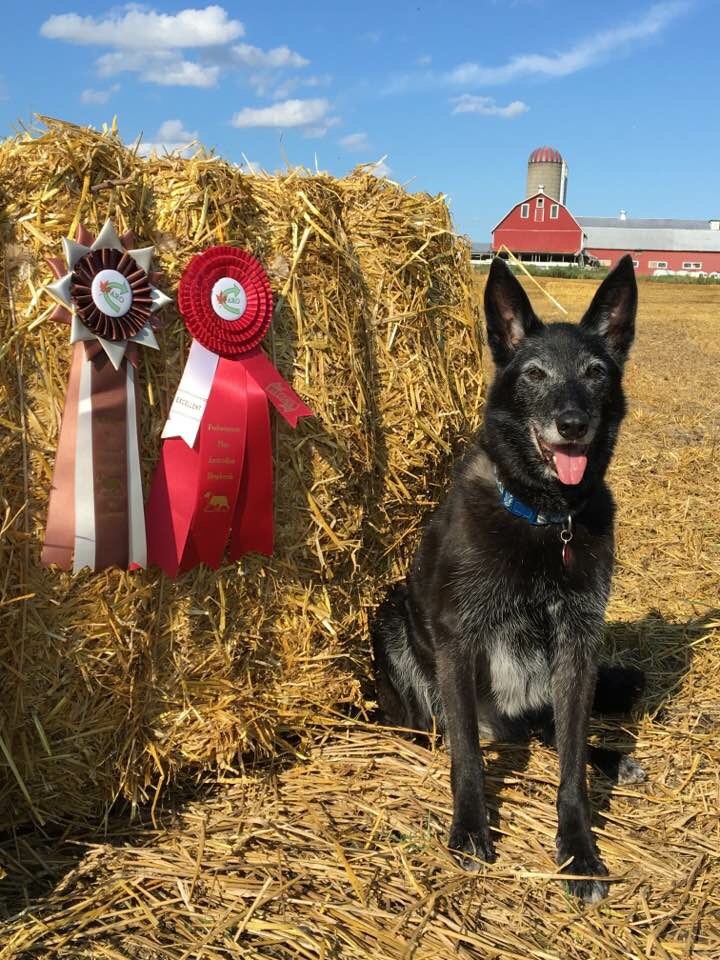 Willow earned her Excellent title in July 2017 at the Performance Plus Australian Shepherds trial. She is always so happy and ready to work. Love this girl!
Vania & Willow CRXMCL
CRNCL & CRNMCL!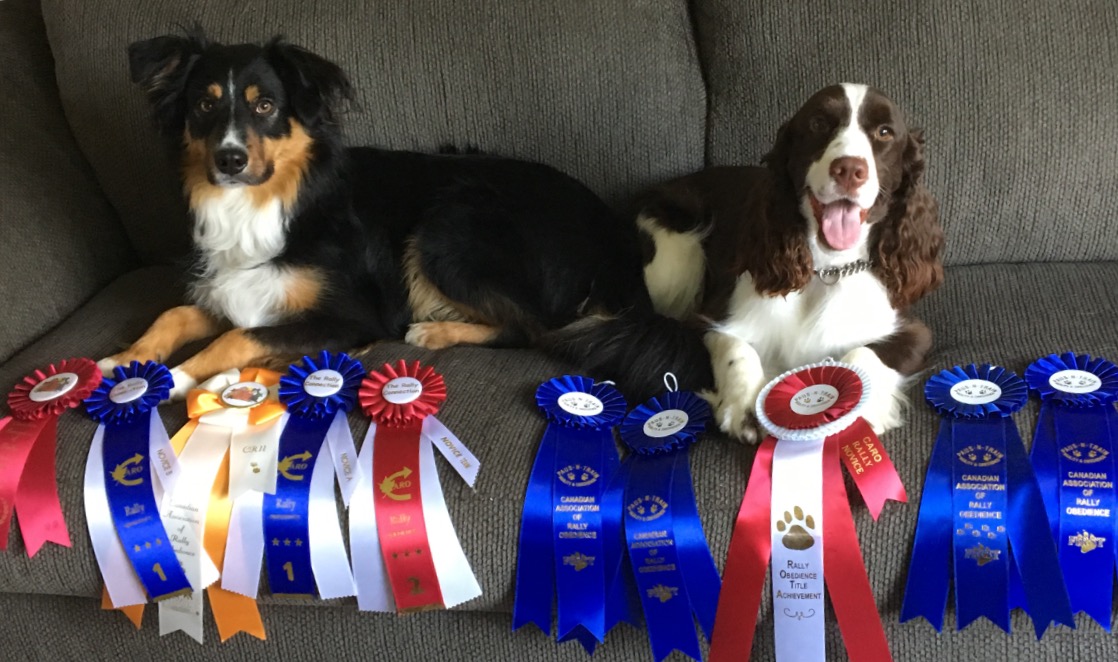 I was first introduced to rally obedience last fall as Rudy, our Aussie mix rescue was showing some reactivity towards other dogs when doing agility training. It was suggested that I try him in rally-o as a quiet environment to trial. We had a couple of private sessions with the fabulous Deana Abbott and we were already working on the advanced signs by the end of those sessions. With much help from The Agility Connection gang to keep the path clear for Rudy to go into the ring, he attended his first rally trial there this spring. He obtained 2 qualifying scores in novice and 2 more in rally team (including a perfect score!). Thanks to the help of Deana as well as the great bunch at K9 Central, he attended their trial earlier this summer and earned his CRNCL! I am very thankful to those who have been involved with working with Rudy and to the clubs who have been supportive with him as well.
Having one dog in rally just wasn't enough! This spring Keltie the English Springer Spaniel came into our lives (Byrden's Magic Touch, CGN) and she also very quickly picked up the rally moves. After a successful day in the CKC rally ring (earning her first leg towards her CKC novice title), she attended her first CARO rally trial at Paus-N-Train. She earned her CRNMCL in one trial with first place in each class, as well as a qualifying score for team novice.
Really excited to move onward in rally with these two terrific dogs! "
Jennifer Weeks-Llera, BSc, DVM
High in Class!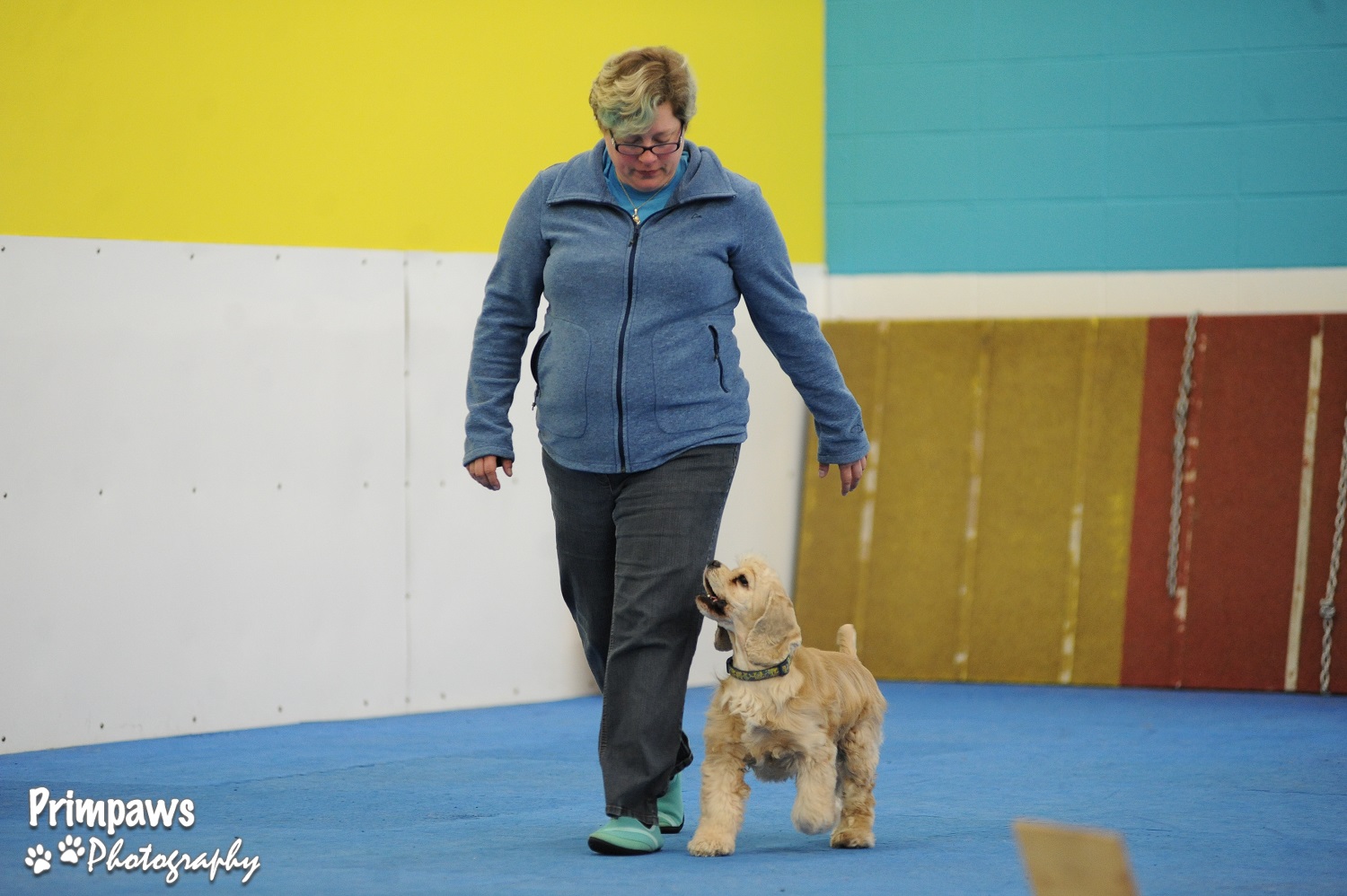 This is Kermit (18K Champagne Taste At KLAD CD, Am RN, Can RE, SHDMX-S, CGN, CRA-MCL, CRAT, NTD) and I on our way to our second Excellent leg. We earned a 198 and a High in Class under judge Laurie Albright. We also earned our CRAT title a couple of weeks ago under judge Avril Tatterson. I'm excited to finish his Excellent title, give Excellent Team a try and even venture into Versatility! The trial was hosted by Kayenna Kennels on April 23, 2017.
Kelly & Kermit
New CRN!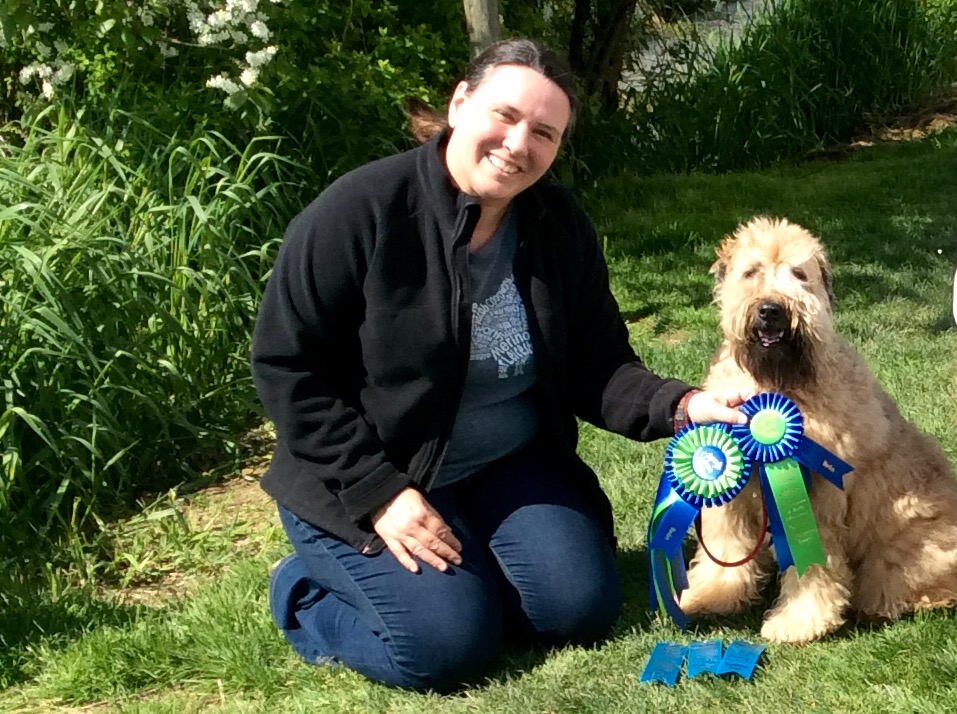 Snowy, our senior (10 year old) got 3 Qs, won her Novice title and also one High in Class in the Dogworks trial May 6 to 7 in Pitt Meadows.
As with most terriers she and I needed lots of training when she was a pup just to bond. After basic puppy class we tried some agility and some tracking training. We stopped formal training at about age 3 but kept on with daily tricks just as part of our routine. When Snowy turned 10 in January she was sleeping a lot more and kind of withdrawing a bit and I decided to try Rally. I was worried about her reactivity in class but Dogworks are brilliant at handling dog-dog interactions. We felt totally safe there and have been training with Julia Schwark through Novice courses. This weekend was our first trial and it was so much fun! My girls eyes were sparkling and she was so happy and engaged. Love Rally!
Marianne & Snowy